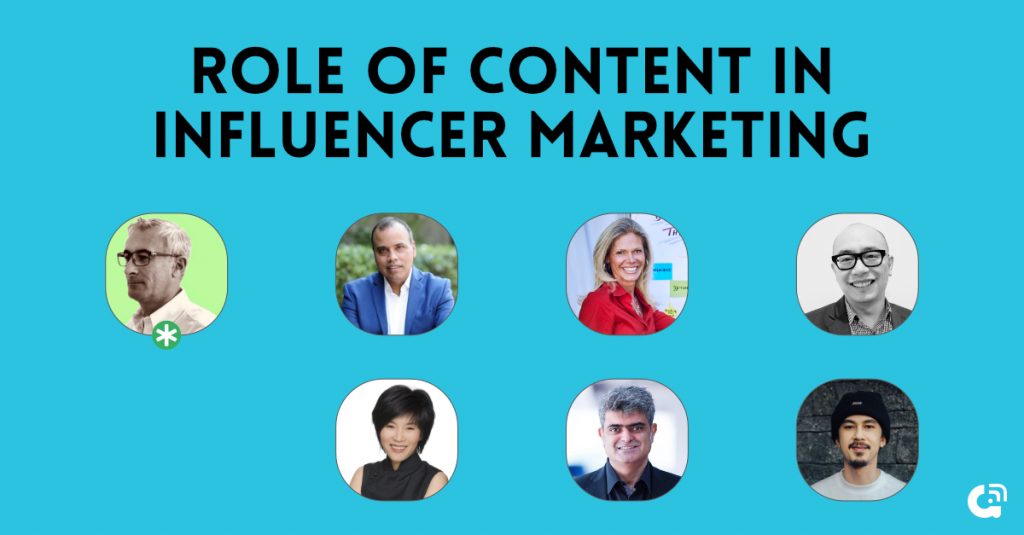 Content is the fire that ignites creators. Creators get content!! Content attracts audiences, audiences lead to communities…it's a circular loop that gets hyper accelerated – Paul Lin, Adjunct Faculty NYU & Strategic Consultant of Digital Marketing and Startups at a Clubhouse discussion earlier last week.
BeTagged kicked off its maiden event on Clubhouse last week, hosting a panel of global leaders and subject matter experts. Co-hosted by Gianluca Girard, Marketing, eCom & Omnichannel Strategist, a prescient discussion unfolded on Clubhouse, with our esteemed panelists jamming their heads to decipher the nuances of content and the role it plays in Influencer Marketing. The panelists included Tan Siok Siok, Award winning Filmmaker, Entrepreneur, Author, Podcast Founder & CEO at Open Story, Vishnu Mohan Chairman, Vivendi Committee, India & South East Asia, Paul Lin Adjunct Faculty NYU & Strategic Consultant of Digital Marketing and Startups, Brigitte Bojkowszky, Global Branding Strategist, Podcaster and International Bestselling Author, Anwesh Bose, Ex President & CEO Havas Indonesia and the super-popular, even among the panelists, Fandy Christian, an actor-influencer with over 2 mn followers on Instagram.
Gianluca Girard headlined the start of the discussion with a question to Siok Siok on the dominance of video amongst all forms of content, followed by discussions on content where Anwesh pointed out how brands limit independence of content creators, resulting in decline of quality and relevance of engagement. Incisive commentary followed by Vishnu Mohan on budgets moving from linear to digital. He mentioned "no medium is a substitute to another. Paul Lin  peppered  the evening with some unfettered insights on China and how it will impact other countries and what can be learnt from there. Brigitte Bojkowszky emphasized on the importance of giving Influencers control and thus how critical it was for brands to select the right influencers. Fandy got most of the questions and the highlight of the session was the clarity and simplicity in his answers. This is why not everyone is an Influencer!! Some suave moderation between Krish and Gianluca kept the 2 hours of discussion gripping with the interplay of knowledge and decisive insights from the audience which included the Co Founder & CEO of BeTagged, Shamik Talukder.
The opening round went to Siok Siok, who was asked if video will continue to dominate content formats in the future. Her response opened the minds of the audience that nothing should be taken for granted ever. She replied by stating that this discussion on CH was an audio only format and we were discussing whether video will continue to dominate! She went on to talk about how brands and marketers should continue to pay attention to their consumers, and adapt content formats to suit consumption patterns, without prejudice. Siok Siok said "Focus on creating content which invites a response, throw the content into the Influencer community and see the results."
Brigitte gave a detailed insight into why content is important for Influencer marketing. She also emphasized on how community played a key role. She gave some interesting case studies of successful Influencer marketing campaigns and finally rounded off her argument with some strong points on how brands need to partner with influencers in co-creating content.
This set the stage for Anwesh Bose to enter the discussion with a passionate pitch for more democracy and creative freedom in content creation. He cited examples of successful brands allowing more creative latitude to their influencers as compared to other brands that operate with rigidity. Moving on to numbers Anwesh said "Content leads to engagement but engagement should not be seen quantitatively alone but also in terms of quality & relevance". Replying to a question from the audience he said how Purpose and Performance should be clearly defined by brands and how branding will come back into focus in the cookie-less world.
The discussion turned towards investments being made in content creation. Vishnu Mohan offered some riveting insights into why it was futile to make comparisons across different media when it came to investments in content creation. He argued passionately for each medium to be evaluated on merit. He laid stress on the element of authenticity and how it is an inherent and unique element in Influencer marketing which will make the medium a dominant one. While Anwesh felt that the multiplicative effect of social media, particularly influencer marketing, has been the grossly underplayed due to several reasons like traditional metrics used for buying, brands not wanting to "upset the applecart" and absence of robust data to make informed decisions on choice of influencers, Vishnu countered that many products & services with smaller budgets were making Influencer marketing as their primary choice of media, which indicated that the growth spurt in Influencer marketing will come from the SME segment adopting it.
At this point, the discussion pivoted to Fandy Christian, an influencer with over 2 millions organic followers on Instagram. Fandy shared the secret of his success with his audiences, which is simply put – Belief in the content he creates and sheer perseverance. Fandy, who has been on Instagram for nearly 8 years showed us that there is no easy way to success. He said he follows his passion and shares his life authentically on this platform. When asked what he would do to go from 2 million to 3 million followers, like a true artist Fandy humbly replied that he did not focus on the number, he only focused on getting his content right and rest will simply fall into place.
Gianluca then invited Paul Lin to the discussion to share some insights on the China model and what Southeast Asian markets can learn from them. Paul opened his segment with a reminder of how China is different in terms of the overall digital environment. He pointed to scale, and the vertical integration of platforms.
Paul then went into details of how brands and influencers in China collaborate to monetize their assets. Of particular interest were the points around live streaming and KOL incubation by brands. This generated a healthy debate among the panelists on the pros and cons of live streaming. There was further discussion on whether brands should invest in incubating their own influencers or rely on agencies to help with selection from a wider base.
Paul also spoke about how audiences expect different things from different platforms and why it is important for influencers to tailor their content accordingly. At this point Fandy joined the discussion with Paul to talk about how content on TikTok is different from Instagram, even if the audiences are nearly 98% overlapping.
With the discussion now coming up to nearly 2 hours, the event moderators decided that a few more similar events will be necessary to dive deeper into each of the sub-topics and ideas that germinated in our discussion today.
BeTagged will continue to host similar events in the near future with notable speakers from every stakeholder community of the industry and help you unbox the power of influence.