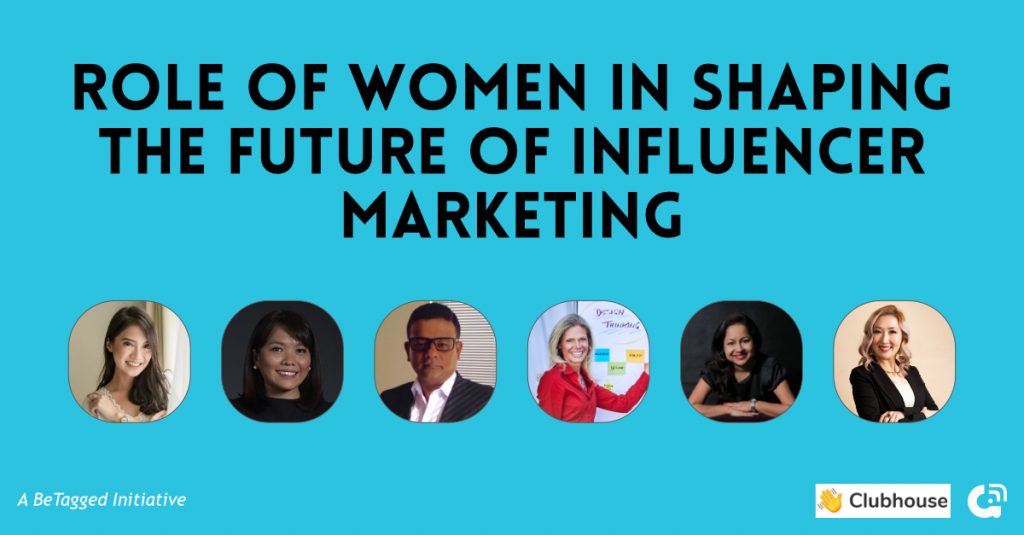 It all starts with emotions!!!
Women represent the softer & emotional side. A brand's relationship with a consumer is based on emotions they convey and thus its easier for women to be authentic & trustworthy influencers – Brigitte Bojkowszky, Global Branding Strategist at the intense Clubhouse discussion on the Role of Women in Shaping the Future of Influencer marketing
Women have been trailblazers since the dawn of time. Be it Elisabeth Thible, Marie Curie, Yevgenia Bosch or Frances Marion; women, over time have shown the world time and again what they are capable of.
With the turn of the 20th century, this phenomenon is more and more commonplace with women achieving new heights in every sphere. Controversial as this may sound, in most areas one might say that women have been "catching up". But there are just a couple of arenas where women have always been at pole position. And in both, they have held massive influence. Intrigued? Read on.
On 03 June 2021, BeTagged hosted an event, featuring a panel of global leaders and subject matter experts to discuss The Role of Women in Shaping the Future of Influencer Marketing. Co- hosted by Shamik Talukder, Co-Founder & Chief Executive at BeTagged, a compelling discussion unfolded on CH, with panellists sharing their thoughts, views, opinions and knowledge on this subject of immense importance and relevance.
Meet our panellists.
Vinessa Inez, Indonesian Actress and Popular Social Media Influencer, with over 1m organic followers on Instagram
Rina Marie Simon, Content Lead at GroupM
Suresh Subramanian, CEO, Kantar Indonesia
Brigitte Bojkowszky, Global Branding Strategist at BridgetBrands, Podcaster and International Bestselling Author
Nishtha Mehta, Change Facilitator, Corporate Innovation Coach and Host and Moderator at CollabCentral
So-Young Kang, Founder & CEO at Gnowbe, WEF Young Global Leader, Transformation Designer, Global Speaker and Author.
Session moderators were Krish Iyer and Shamik Talukder.
After introductions, Krish teed off with a question towards Vinessa. "What does it mean to you, as a woman to be an Influencer? How empowered do you feel and what responsibilities does it bring for you?"
Vinessa responded with an oft quoted line from Spiderman – With great power comes great responsibility. She said being an influencer is all about setting an example for the rest to follow. She further illustrated this point by letting the audience know that she is very selective and cautious of what she endorses, as it is her responsibility to be authentic to her followers and not belie the trust they have placed in her.
Like any good conversation would evolve, So-Young jumped in to point out that there is an unconscious bias in that statement. She passionately highlighted with examples, the fact that women do not get the recognition they deserve, even after achieving as much or more than men. She spoke about several examples of successful women leaders from the biz-tech world, thus driving home the point about how they were not given the spotlight they deserve. This received plenty on acknowledgement that we all, collectively, need to do more and do better at being equitable.
Krish moved the conversation forward by asking a question about how brands should be approaching Influencer Marketing, particularly when their main target audience is women. At this point Rina got into the act by reminding us all about the two roles women now hold in society. One of them is an age-old stereotype and the other is more recent development. Women are the COOs of the household, the stereotypical reality all of us grew up with. And now they are COOs of the boardroom. Brands need to start shifting the paradigm on how they target consumers, particularly women. Women are often fatigued. While they are naturally blessed with a superior ability to multi-task (a scientifically proven fact), yet their mental clutter is at an all-time high.
Brands need to take note of this and devise ways and means to come across as authentic. Brands needs to go back to the drawing board and understand how women make decisions. Women do not access a brand based on price or looks alone. Rather, they focus on what value it brings to the table; what value it brings to their family. She further emphasised that women today, do not have a lot of mental availability – the space that a brand takes up in a consumer's mind.
Brands will grow when they are able to access more mental availability than their competitors. Today, working women have a 40-60 hour work week followed by another 130 minutes of daily chores at home. Brands have to cut across these intense attention spans to reach the women they are targeting. And they can do this by creating brand communities. Instead of targeting a segment of consumers to create awareness alone, brands should use Influencer Marketing to build communities which women can turn to for help or reviews. Rina believes that these communities are the way for the future.
The conversation became livelier with Suresh chiming in with yet another out-of-the-box point. He said the brands have been stereotyping women for too long as the COO of the household. His statement "When will we see an ad when a man is marketing a detergent or a floor cleaner?" drew claps and catcalls from the panellists and the audience. He closed his arguments with an open question – Will brands wait for men to start contributing enough to the household before they change their perceptions and marketing strategies? Or will they take the lead and drive this change?
At this point, with 30 minutes gone, we still had 2 speakers who were awaiting an opening. Seizing the opportunity, Nishtha shared her perspectives with the panel and the audience. She said if a brand's goal is to engage their target audience, they need to look for interest-based topics and conversations to build these communities Rina had earlier spoken about, rather than pushing brand advertising to the consumer.
Suresh, at this point, made a statement which injected more energy into an already lively room, resulting in some healthy exchange between Suresh and Shamik. Suresh opined that once an influencer endorses a brand on social media, consumers get a notion that the influencer has been paid to promote that brand. Suresh felt that it might be more authentic if the influencer openly declared a paid promotion, rather than being subtle about it. Shamik argued than an influencer is an entrepreneur, they have accomplished something, and were valued by their followers. Thus, if influencers get paid for promoting a brand or product or service, there is nothing wrong with it, as long as they understand the value proposition and really believe in it. It has to be authentic. He further insisted that getting paid does not mean being inauthentic. This conversation naturally moved into what brands should be doing to harness the power of influence, rather than simply using it as another communication tool with no real strategy. Which allowed the room to talk about content strategy for a while. Brands, in order to truly build a loyal consumer base, need to get the consumers themselves involved, by going beyond connecting with the rational mind and connecting with the emotional base. By making the consumer the hero, brands can win this game. And naturally no media vehicle is better positioned to help brands achieve this objective than Influencer Marketing.
Brigitte continued to state that branding is all about human connections. Consumer are drawn to the emotions that a brand conveys, making them elevate in their being and imagine how they can be more productive by using that brand. Bridget made references to Hofstede Cultural Dimensions and highlighted that woman represent the softer and emotional side and thus women can be more authentic and trustworthy influencers. And they need to break the stereotype barriers to do this successfully.
This made Krish throw an obvious question at the panel – Why are advertising agencies not advising their clients or brand managers to change the stereotype? With a few seasoned advertisers in the room with a collective experience of over 100 years, this question ignited the conversation.
Rina chose to answer the question and brought attention to the fact that budgets are getting tighter. APAC is very new to social commerce. If we compare an e-commerce investment to an influencer marketing investment, it is difficult to justify the budgets for business effectiveness and response. Therefore, brands tend to play in the safe zone that is tried and tested. Brands and agencies are trying to break the stereotype, but when one has to justify every penny spent, it is hard to balance out something that is new and not explored, particularly for acquisition and conversion.
Krish further inquired about the purpose of marketing budgets. Were they spent to create brand awareness or to convert sales? Are there any demarcations made at planning level? Rina replied that the business objectives or the campaign objectives are always pre-assigned. The objectives for Influencer marketing could be to create awareness, develop engagement, or even conversion. The challenge is not with the plan, rather how one measures impact. Shamik responded by saying that we need to research and deploy a system to measure the ROI on Influencer Marketing specifically.
Anwesh Bose, Founder at The Academy Consulting who was in the audience further added that agencies have regressed from being brave to being defensive, as efficiencies have become more important than effectiveness, and a lot of time is being spent by agencies to get the best bang for the buck. There is a disparity in decision making where content is being made versus where content is being distributed. Both are trying to enhance the efficiencies hence there is a fear of disruption which is making it difficult in doing away the stereotype.
The discussion got ever more intense as we broached the topic of emergence of women influencers as entrepreneurs, are women influencers restricted to certain categories, is the hiring of influencers based on gender, has influencer marketing been able to beat the gender bias in terms of contracts and compensation and many other very interesting insights into this intriguing world of Influencer marketing. Watch this space for Part.